From Pre-op to Post-op.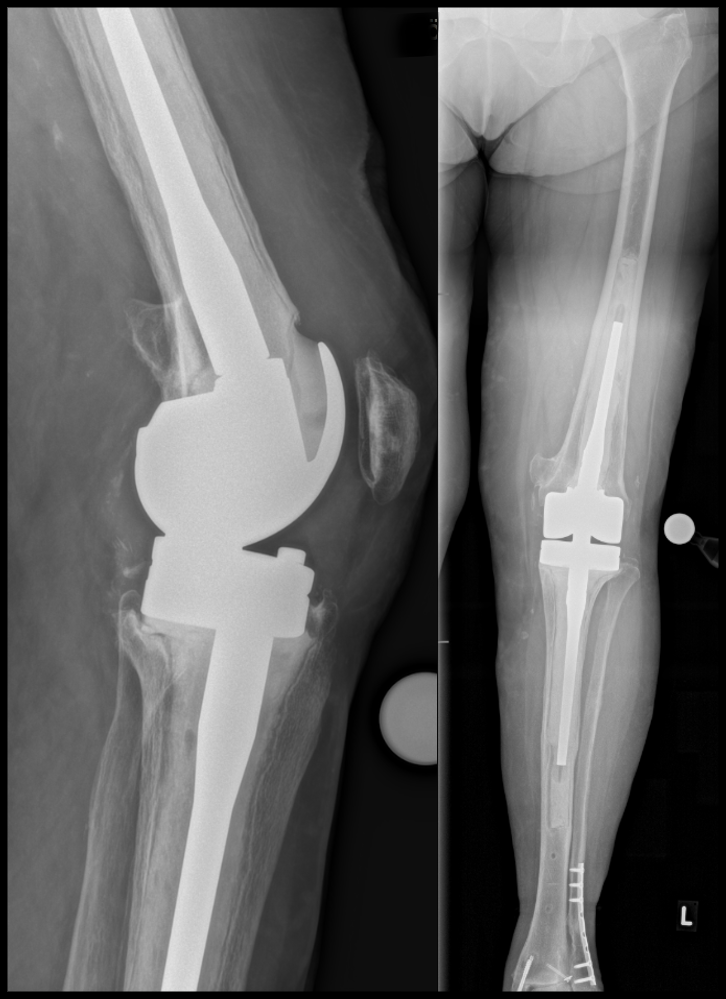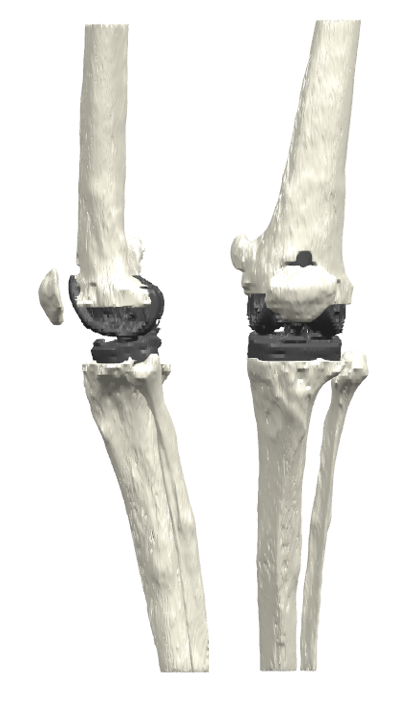 Pre-operative situation
An 80-year-old female patient with a body weight of 88kg and a height of 167cm presented herself at the clinic because of progressive left knee pain. The medical history revealed the primary implantation of a left knee prosthesis (KTEP) 6 years ago. In the following years two revisions were performed due to peri-prosthetic infection and aseptic loosening. At the time of presentation, a loosened M-size LINK Endo-Model with augment was in situ. The femoral stem was 135mm long, and the tibial stem (with washer) was 160mm long. For the treatment of the patient, LINK was asked to develop a femoral and a tibial cementless OptiStem with individual dimensions.
Design Planning
The patient-specific design of the required implants was planned by the customLINK engineers on the basis of the CT data. For this purpose, 3D models of the bone were created from the CT data by segmentation and the individual implant components were designed on the basis of this bone model.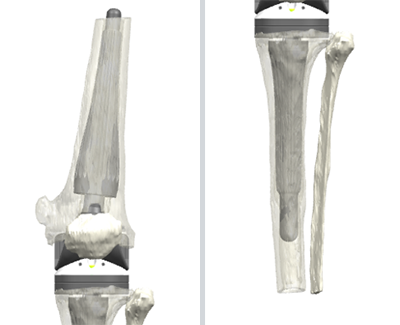 For an optimal solution the geometry and fit of the implant components were evaluated using several cross-sectional views in the CT sections. The digital femoral planning (1-7) shows that the customLINK OptiStem is more oval distally than proximally and therefore fits ideal to the metaphysis of the femur.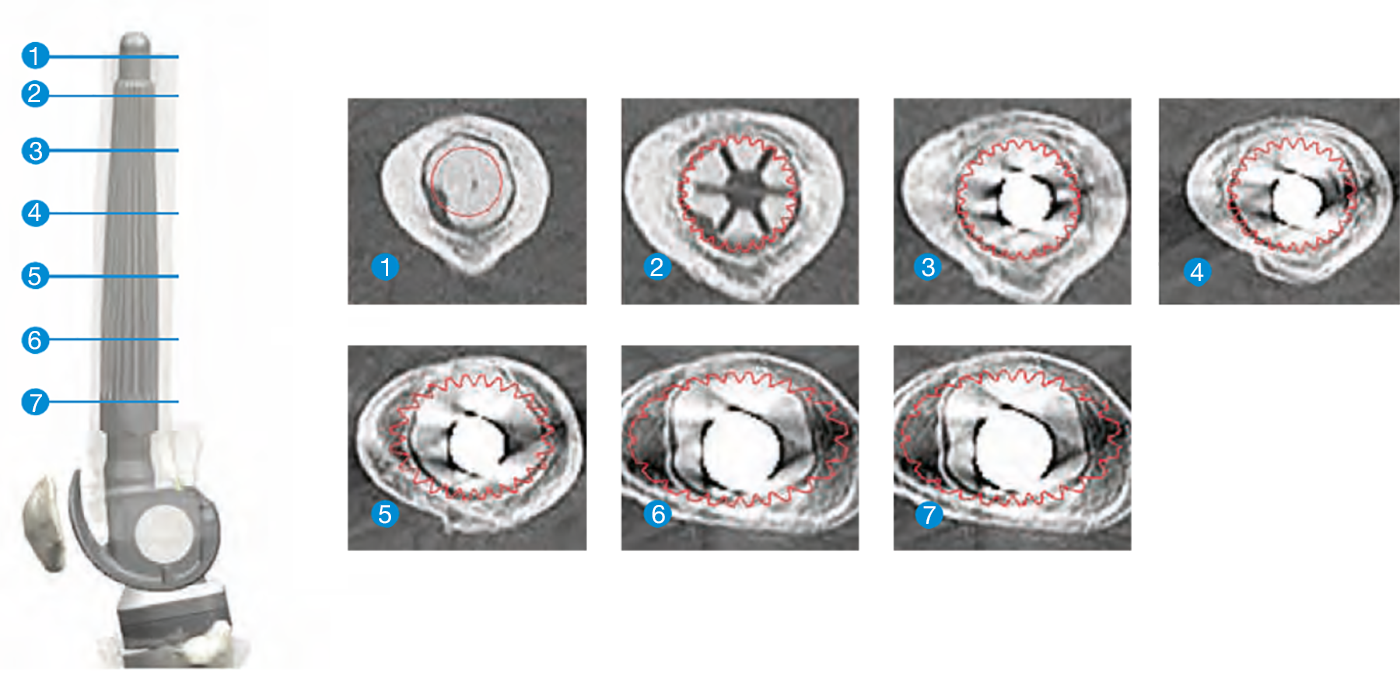 The preoperative digital tibial planning (8-13) shows that the tibial stem has a lateral offset of 3 mm, is adapted to the medullary canal and therefore cannot be rotated intraoperatively.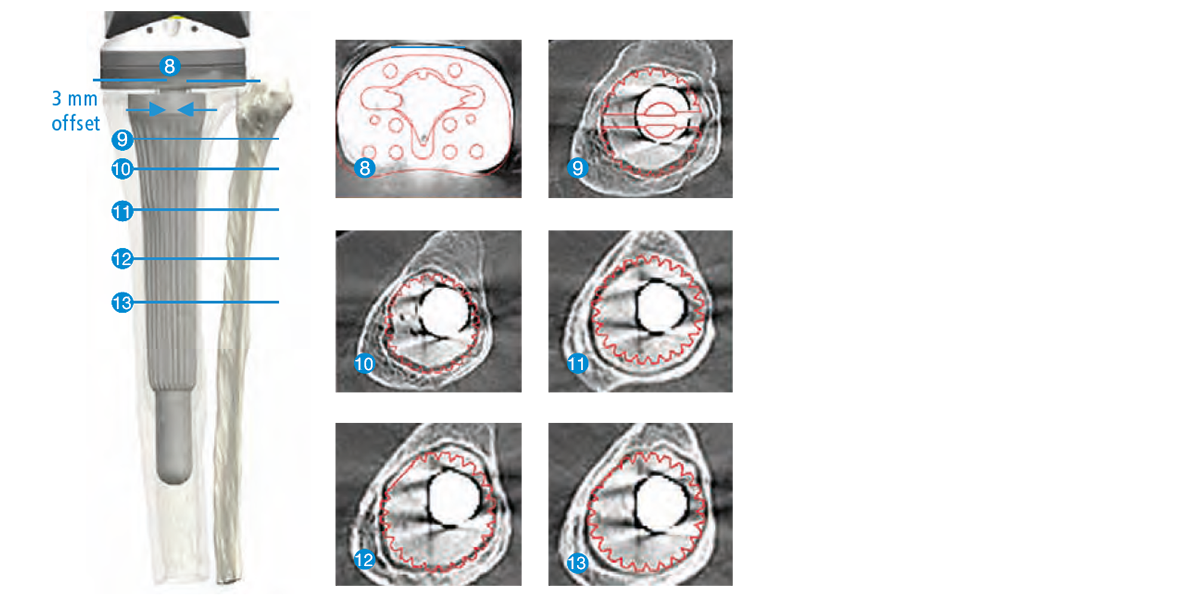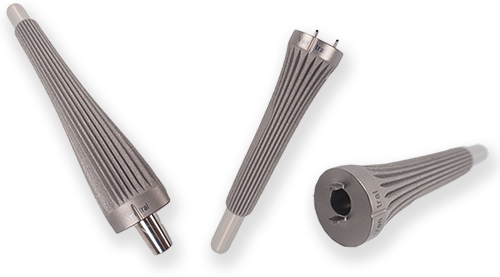 Implant
The customized OptiStem is the optimal solution for stem fixation in very challenging cases with large medullary cavities or intramedullary revision defects. It provides excellent metaphyseal / diaphyseal fixation. For ideal cementless fixation the stems feature typical Wagner grooves as well as an oval and conical curved stem geometry adapted to patient's individual anatomy.
Post-operative situation
The customized femoral and tibial Link OptiStems were successfully implanted in combination with a femoral component of the MEGASYSTEM-C EndoModel and a tibial component of the Endo-Model M from the standard Link portfolio.
---
Do you have a challenge like this?
Please send us CT data of the defect situation taken in 2mm resolution and according to our CT protocol, along with information about the desired resection.