Unique Implants
For Unique Patients
As part of the German LINK family company, customLINK creates dependable individual solutions that go beyond the successful standard primary or revision implant systems. Such as the LINK MP Hip Reconstruction Prosthesis, LINK Endo-Model Knee or LINK MEGASYSTEM-C Modular Tumor and Revision systems.

LINK has designed and manufactured orthopedic devices since 1948, with the first custom device produced in the late 1960s.

Since then over 40,000 custom devices have been made, each with thorough documentation stored in our large archive making them completely retraceable at any time. Based on years of professional experience, customLINK finds effective solutions for every unique inquiry.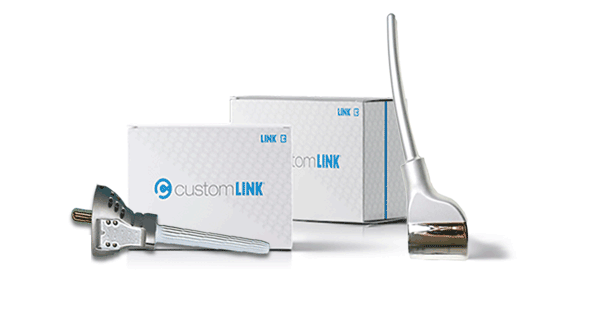 40,000 custom
devices worldwide since late 1960's
Three generations of
"technological heritage"
Designed & Made
in Germany
Custom devices
based on proven technology
Shipment typically within 4 weeks
after surgeon approval

Order Process
Our customLINK specialists work closely with the user to develop, design, and manufacture customized solutions, which are then sterile-packaged for shipment, if required. This generally takes four weeks from the moment that approval from the surgeon and hospital is given.
The individual solutions are manufactured in-house in the Hamburg area, all made in Germany.



What type of customLINK devices can be ordered?

customLINK devices cover all bones and joints starting from shoulder to the feet: i.e. shoulder, elbow, wrist, hip, pelvis, knee, ankle. Especially for tumor resections or large revision cases, where no implants are commercially available, custom devices are often times a patients' last resort. Furthermore we design special devices to treat peri- or interprosthetic fractures (RescueSleeve), arthrodesis nails, growth prostheses and patient specific instruments.




Which information does customLINK need to process a request?

Please send us your request through our online portal by completing the required information for a case as well as uploading x-ray and/or CT data taken according to the respective X-ray or CT protocols. If you do not have access to the portal, please use our current case request form.




How can I register for the customLINK online portal?

Please register here by completing all information requested. Then please confirm your email address, access the online portal and start requesting your case. customLINK will inform you as soon as your account has been approved.




What about patient data protection within the customLINK online portal?

Please do not use the patient's full name but abbreviations, numbers, initials etc. Please also anonymize patient images (CT data, X-rays) prior to uploading them onto the customLINK portal (refer to example below). The portal allows to work with an ID (UDI) for each case. This automatically produced UDI will be used in all case related documents and communication to ensure traceability while complying with the GDPR. Further hospital patient IDs are used to allow the hospital to identify their patient specific case.





Why a web-based customLINK portal?

To provide easy access, anywhere, any time. It means there is no software to install on a specific computer inside the hospital. Manufacturing patient specific implants and instruments is quite challenging. The customized solution needs to fulfill surgeon and patient requirements on the one hand and need to be manufactured on time on the other hand. This requires efficient communication, design and manufacturing. The online portal enables an advanced daily collaboration between surgeons and the whole customLINK team to provide a comprehensive service for patient specific solutions.
Contact Us
Give us a call or send us an email, we strive to answer all enquiries within 24 hours.
Waldemar Link GmbH & Co. KG
customLINK
Oststrasse 4-10
22844 Norderstedt
Germany

+49 40-53995-141