From Pre-op to Post-op.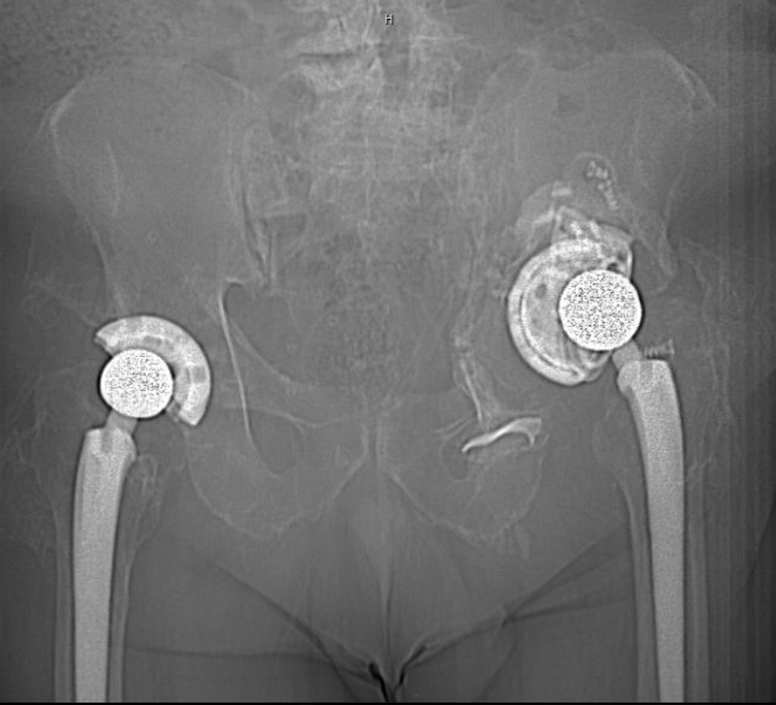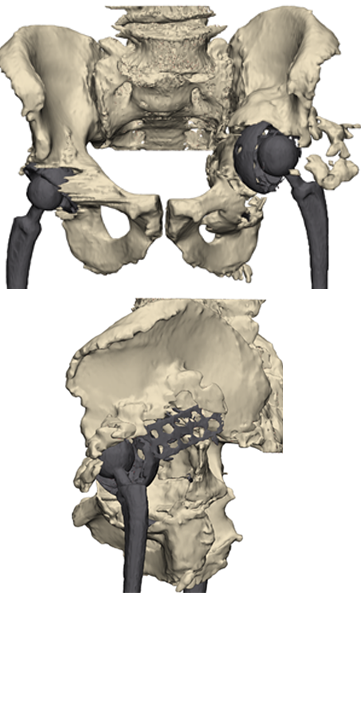 Pre-operative situation
A 81-year old male patient (height 1,73m, weight 108kg) showed a failed total hip arthroplasty (THA) and fracture of the left acetabulum. The patient previously underwent 3 hip surgeries, whereas the first one was a cup revision 15 years after primary THA. One year later another revision became necessary and the patient was surgically supplied with a cup and cage implant. For treatment of the in situ failed THA, the surgeon asked LINK for a customized partial pelvis replacement with option for a cementless inlay and with possible combination of locking and non-locking screws.
Design Planning
The patient-specific design of the required implant was planned by the customLINK engineers on the basis of the CT data. For this purpose, 3D models of the bone were created from the CT data by segmentation and the individual implant components were designed on the basis of this bone model.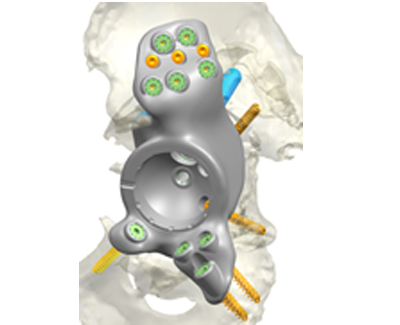 The center of rotation is digitally planned with reference to the contralateral side.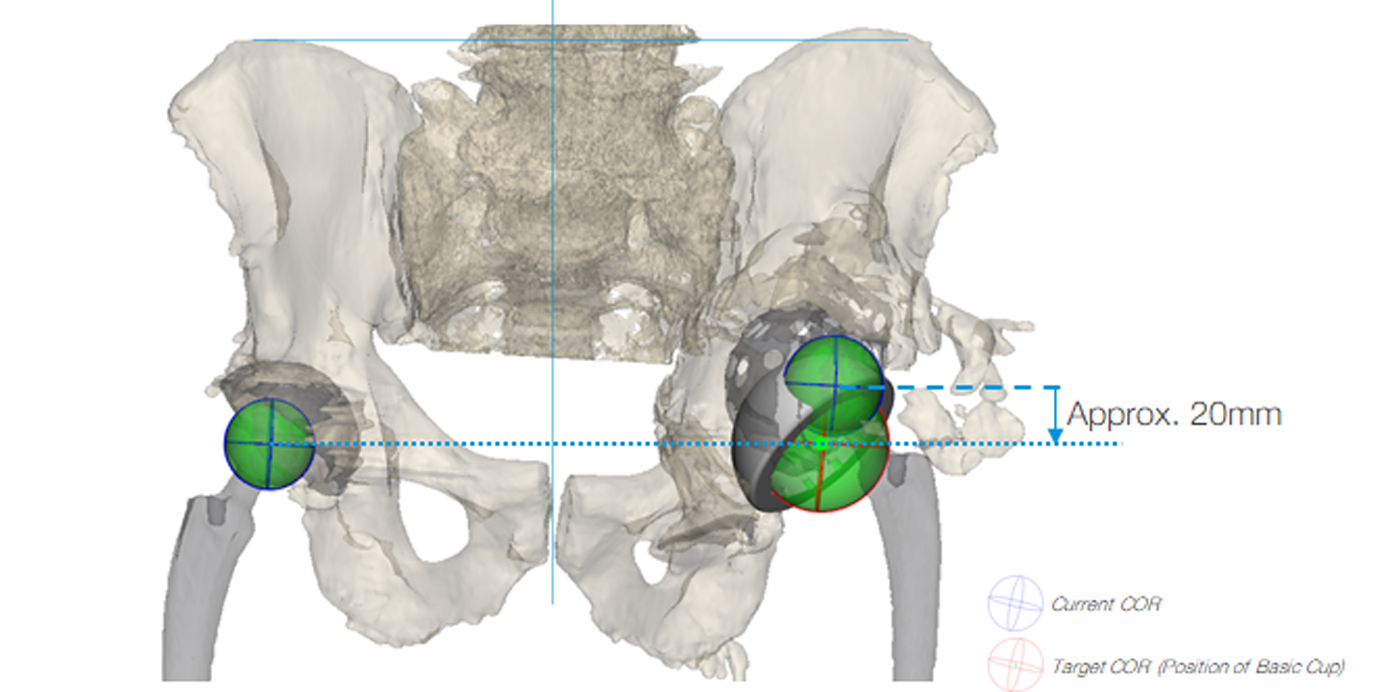 Main fixation of the implant is taken by a cementless iliac stem along the Linea Arcuata featuring TrabecuLink structure as well as cancellous screws. Additionally locking caps can be used for secure screw fixation (highlighted green).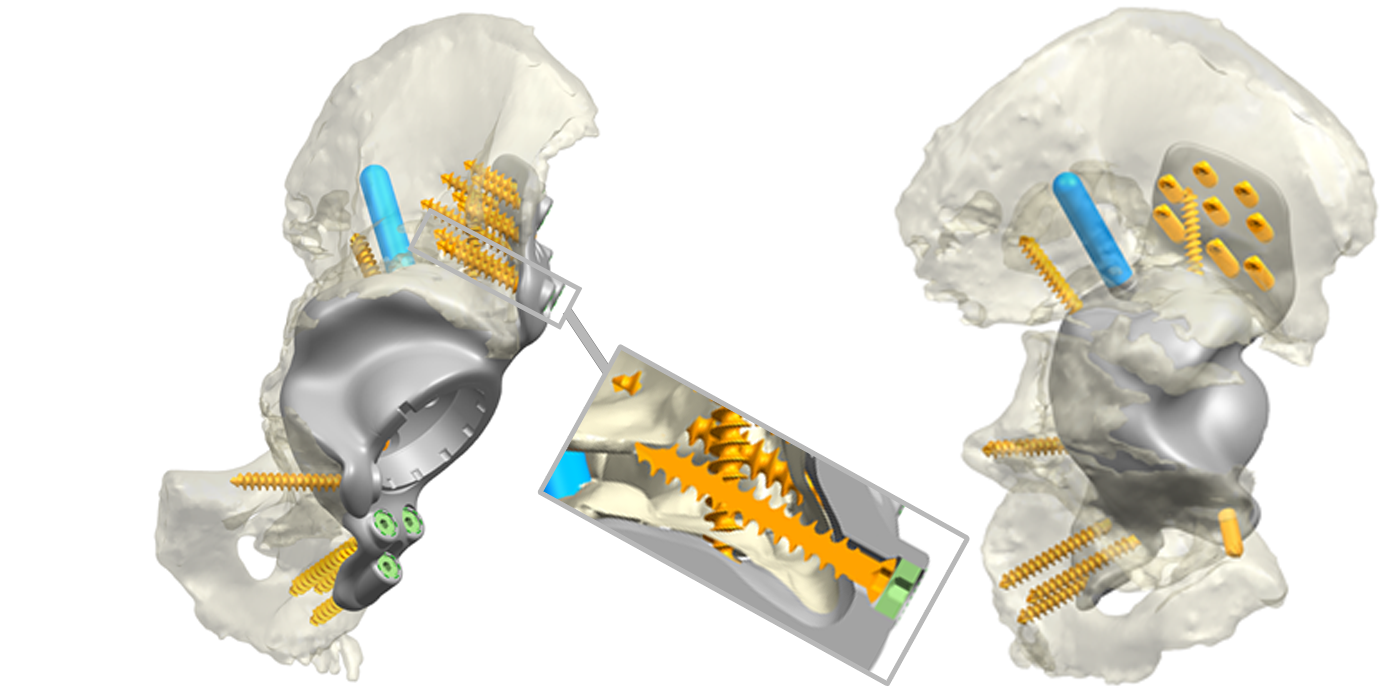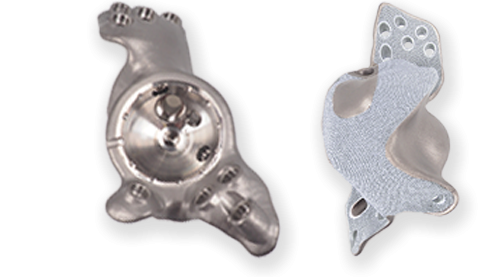 Implant
The implant is designed with 3 flanges (iliac, ischial and pubic flange) and several options for screw fixation. Furthermore the defect is augmented by the geometry of the implant featuring TrabecuLink structure at the bone contact surfaces for promoted bone ingrowth. Additionally it is coated with osteoconductive HX (Calcium Phosphate). A cementless cup from the standard Link portfolio can be used with the customized partial pelvis replacement.
Post-operative situation
The customized partial pelvis replacement was successfully implanted and fixated with cancellous screws. It was used in combination with the Bimobile Dual Mobility System from the standard Link portfolio.
---
Do you have a challenge like this?
Please send us CT data of the defect situation taken in 2mm resolution and according to our CT protocol, along with information about the desired resection.